ASF has a wide range of producing Earthing Link Boxes for High Voltage Cable System up to 380 Kv. Link Box is the main production activity of ASF. All our products got Type Tested. Beside our standard types of Link Boxes, we can develop and offer different types of Link Boxes as per the client requirement.
Quality Control and Quality Assurance are enforced by ASF to meet the requirement of its most stringent clients. Our commitment to quality, professional outlook and Creation of worth to our clients.
FUNCTION OF LINK BOXES
Link Box is electrically and mechanically one of the integral accessories of HV underground above ground cable bonding system, associated with HV XLPE power cable systems. Link boxes are used with cable joints and terminations to provide easy access to shield breaks for test purposes and to limit voltage build-up on the sheath.
Lightning, fault currents and switching operations can cause overvoltages on the cable sheath. The link box optimizes loss management in the cable shield on cables grounded both sides.
In HV Cable the bonding system is so designed that the cable sheaths are bonded and earthed or with SVL in such way as to eliminate or reduce the circulating sheath currents. The link box is part of bonding system, which is essential of improving current carrying capacity and human protection.
SHEATH VOLTAGE LIMITERS (SVL) (SURGE ARRESTORS)
SVL is the protective device to limit induce voltages appearing on the bonded cable system due to short circuit.t is necessary to fit SVL's between the metallic screen and ground inside the link box. The screen separation of power cable joint (insulated joint) will be protected against possible damages as a result of induced voltages caused by short circuit/break down.
TYPE OF SHEATH BONDING FOR HT CABLE :
SINGLE POINT BONDING CABLE SYSTEM :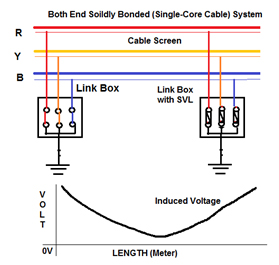 Most  Simple and Common method. Cable screen is bonded to earth grids at both ends (via link box).To eliminate the induced voltages in Cable Screen is to bond (Earth) the sheath at both ends of the cable circuit. It also eliminates the need to provide SVL, such as that used at the free end of single-point bonding cable circuits.
2 CROSS BONDING CABLE SYSTEM :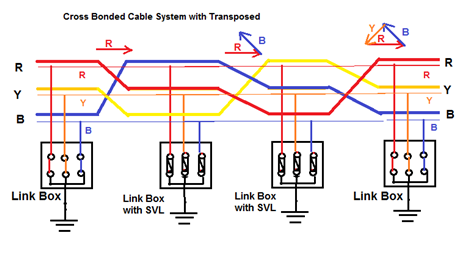 A system is cross-bonded if the arrangements are such that the circuit provides electrically continuous sheath runs from earthed termination to earthed termination but with the sheaths so sectionalized and cross-connected in order to reduce the sheath circulating currents. For cross bonding, the cable length is divided into three approximately equal sections. Transpose cable core to balance the magnitude of induced voltages to be summed up.
MECHANICAL FEATURES
Mechanically must be of strong/robust construction, impervious to moisture, and fluid-tight under all operating conditions. Link Boxes, in general, are designated as underground, outdoor/over the ground, and indoor types. 
This classification mainly indicates mechanical installation but does not indicate its electrical design features, and function. The internal connections are made through removable links of tinned copper bars with specified cross-sections.
ELECTRICAL FEATURES 
Electrically, a link box must be designed to withstand the voltage stresses occurring under fault, and lightning & switching surge condition as established kV levels in Customer Specifications. Link boxes are functionally designated as : 
Cross Bonding Link Box for Joint
Direct Earthing Link Box without SVL for Joint
Direct Earthing Link Box with SVL for Termination 
Direct Earthing Link Box without SVL for Termination.
Special Link Box 
ROUTINE TEST 
All of our Link Boxes are tested in our factory before delivery to our customers. Applied tests include Electrical tests such as AC /DC Withstand test, Insulation Resistance Test, Contact Resistance Test, Visual and Dimensional Inspection. 
Diagram
Type of Link Box 
Enclosures
Application
Description
SE 2P-SS
SE 2P-S
Stainless Steel
Above Ground /
Wall Mounted
Single Phase Direct Sheath Earthing
SES 2P –SS
SES 2P -S
Stainless Steel
 Above Ground /
Wall Mounted
Single Phase SVL Sheath Earthing
BC 6P-F
BC 6P-SS
BC 6P-S
Stainless Steel
  Fiber Glass

Above Ground /
   Buried 


Direct Earthing Concentric Cable
DEC 6P-SS
DEC 6P-S
Stainless Steel
 Above Ground /
Buried 
Direct Earthing Single Core Cable
DC 6P-F
DC 6P-SS
DC 6P-S
Stainless Steel
Fiber Glass
Above Ground /
Buried
Direct Earthing Concentric Cable
ES 3P-F
ES 3P-SS
ES 3P-S
Stainless Steel
Fiber Glass
Above Ground /
Wall Mounted
Single Point Bonding Single Core Cable
LS 3P-F
LS 3P-SS
LS 3P-S
Stainless Steel
Fiber Glass
Above Ground / 
Wall Mounted
Single Point Bonding with SVL Single Core Cable
LEC 6P-F
LEC 6P-SS
LEC 6P-S
Stainless Steel
Fiber Glass
Above Ground /
Buried
Cross / Single Bonding Concentric Cable